EXPERIENCE. DEDICATION. LEADERSHIP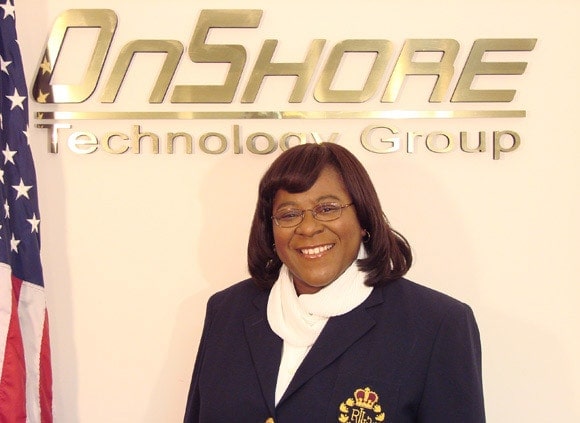 M.B.A. – CHIEF EXECUTIVE OFFICER
Valarie has over 34+ years of international experience in the life sciences technology industry. Valarie King-Bailey is the CEO of OnShore Technology Group, Inc., an independent Chicago-based consultancy founded in 2004 specializing in Independent Validation and Verification (IV&V) services and solutions. 
OnShore's innovative software application, ValidationMaster™ is the first fully integrated Enterprise Validation Management System (EVMS) on the market. ValidationMaster™ was recognized by CIO Review Magazine as one of the top 20 most promising technologies for life sciences in 2018. In 2017, CV Magazine recognized ValidationMaster as the BEST IV&V Solution for 2017 and designated OnShore as the 2017 Best Software Testers. As a strategic partner with Microsoft, OnShore developed the FIRST and only U.S. FDA Validation Toolkit for their flagship Enterprise Resource Planning (ERP) system used by life sciences companies across the globe. This toolkit was extended a new Validation Accelerator branded as CloudMaster 365℠ For Microsoft Dynamics 365 for Finance and Operations powered by OnShore's ValidationMaster™ Enterprise Validation Management and Quality system.
Prior to her tenure as CEO of OnShore Technology Group, Inc., Valarie has worked for leading global companies such as QUMAS Limited (Ireland), EMC/Documentum, Abbott Laboratories, and U.S. Steel – South Works. At QUMAS, an Irish-based software company, she served as Chief Marketing Officer where she was responsible for all global tactical and strategic marketing initiatives in addition to the development of their validation toolkit. She also made a significant impact at Abbott Laboratories in Chicago where she served as Director of Document Management and Quality Systems leading a $16MM division-wide validation initiative. As recognition for outstanding performance, Valarie received Abbott's Chairman's Award – the highest honor bestowed by Abbott on its employees by the CEO and Board of Directors. Remarkably, she received Abbott's Chairman's award for 2 consecutive years saving the company over $40MM in annual cost savings. In 2008, Valarie received the Distinguished Alumni Award from the U.W. College of Engineering in 2008 and in 2010, she received a Lifetime Achievement Award from the U.W. College of Engineering.
Ms. King- Bailey holds an M.B.A. in Information Systems from Keller Graduate School of Management (1985) and a B.S. in Civil and Environmental Engineering from the University of Wisconsin – Madison (1982). She is a member of the American Society of Civil Engineers, Society of Women Engineers, National Girls Collaborative Project for STEM education, Regulatory Affairs Professional Society (RAPS), and a U.W. College of Civil Engineering Advisory Board Member. Valarie is also the founder/lead author of the blog "The Validation Post". She is a frequent guest speaker at the Institute of Validation Technology (IVT) and most notably was honored as IVT Speaker of the Year in 2015.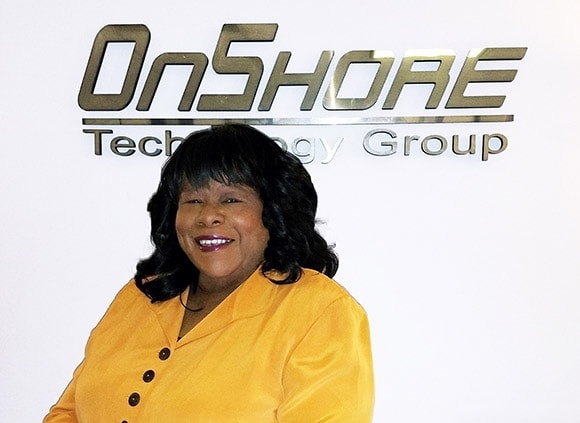 Paula Boston currently serves as Chief Operating Officer for OnShore Technology Group, Inc.. Ms. Boston is responsible for the administration of global operations. Paula brings more than 35 years of administrative and executive management experience to OnShore Technology Group, Inc.. 
Her experience and leadership have been focused on driving internal business processes, company certification efforts and helping OnShore to succeed in providing outstanding client service as the company drives profitability and revenue growth. As part of the founding executive team of OnShore Technology Group, Inc., Ms. Boston joined the company in 2004, approximately 4 months after the company was founded. Through her leadership, she helped establish relationships with key government agencies and commercial entities on behalf of the company. Through coordinated efforts, Paula works closely with the CEO to manage key strategic partner relationships and track key performance indicators that drive company success.
Prior to her tenure with OnShore Technology Group, Inc., Paula held positions with progressive responsibility with leading global companies. Though her acumen as an executive administrator, she was able to help these companies achieve their business objectives and drive to greater profitability.
As a valued contributor, Paula's strength is in her organizational and operational skills designed to optimize costs and drive operational efficiencies. Since our founding, Paula works in close consultation with the CEO to drive many of the strategic initiatives to help transform OnShore's business operations including opening offices in Boston, California and Weybridge UK.
Ms. Boston holds a BA from Columbia College in Chicago.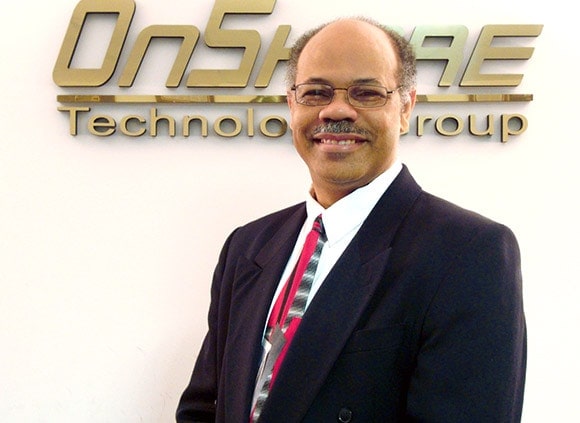 Vincent presently serves as Chief Technology Officer (CTO) for OnShore Technology Group, Inc.. As one of the founding members of the company, Vince provides strategic leadership for the continued development of innovative, robust and secure technology solutions that power OnShore's lean validation strategy.
The primary responsibilities for OnShore Technology Group, Inc.'s Office of the Chief Technology Officer encompass a broad array of strategic technology issues of critical importance to OnShore and its clients including oversight of the technical development and delivery of ValidationMaster™, cybersecurity, cloud validation and verification technical strategies, data integrity, GDPR processes, CloudMaster 365℠ technical development, Robotics Process Automation (RPA) validation strategies and technology protocols that govern all installation qualification aspects of computer systems validation.
Throughout his tenure as CTO, Vincent has led the innovation and development of OnShore's flagship product, ValidationMaster™, ValidationMaster eQMS™, and its associated validation document deliverables. Through Vincent's leadership, OnShore has established the first ValidationMaster™ Center of Excellence in Chicago designed to promote the latest strategies in advanced automated validation testing techniques for cloud, mobile, and on-premise computing systems. As a life sciences technology specialist, Vincent couples his deep technology acumen with his regulatory experience.
Prior to his tenure with OnShore Technology Group, Inc., Vincent held various IT positions with progressive responsibilities where he was responsible for providing strategic technical support, planning and delivery of corporate networks and enterprise technologies for companies in highly regulated industries including life sciences.
Vincent holds an Associates in Electronical Engineering Technology from DeVry Institute of Technology where he graduated with honors as class salutatorian. Vince is a member of Strathmore's Who's Who in IT and a graduate of the Chicago Urban League nextONE® Entrepreneur's program. Vincent is a member of the Institute of Validation Technology and since 2005, has held many independent workshops highlighting lean validation technical strategies. He is fluent with leading enterprise technologies and is a Microsoft Certified Systems Engineer/Administrator/Professional. Vincent resides in Chicago, Illinois.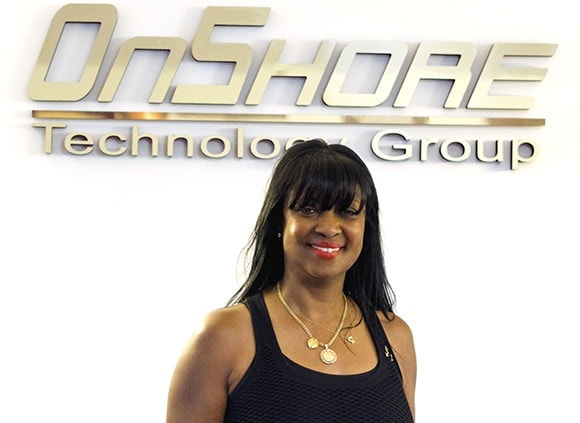 Linda C. Chatman presently serves as general counsel of OnShore Technology Group, Inc.. In her role as chief legal counsel, she is responsible for overseeing OnShore's legal affairs including contract preparation and negotiation, intellectual property, real estate and other corporate legal matters.


Ms. Chatman has had extensive experience in product liability, compliance, litigation, intellectual property and corporate law. Prior to joining OnShore, Ms. Chatman served as senior vice president of Human Resources and general counsel of World's Finest Chocolates, a Chicago-based chocolatier founded in 1939 specializing in bulk sales for school fund raisers and corporate gifts. During her tenure at World's Finest, Linda led key strategic HR initiatives and provided strategic leadership and legal counsel to the firm. Prior to that, she served as Associate Attorney at Gessler, Flynn, Fleischmann, Hughes & Socol in Chicago.
Throughout her career, Linda has been a trail blazer for women. She holds a Juris Doctorate in Law from the prestigious University of Chicago law school where she was among the first black female graduates in law. Linda also is a registered nurse and served for 6 years at Chicago's Michael Reese Hospital. Linda resides in Chicago, Illinois.
If you are looking for a challenging opportunity to showcase your experience with one of the INC 5000 fastest growing, award-winning companies, APPLY NOW for one of our open positions. We offer a friendly flexible work environment with excellent potential for you to learn and grow.